DDAY - WWII - American Sector Normandy Tour
DDAY - WWII - American Sector Normandy Tour
THE BATTLE OF NORMANDY - LANDING BEACHES
During the Second World War, Normandy following the armistice of 22 June 1940, Normandy was part of the German occupied zone of France.
The Allies, involving Britain, the U.S, Canada and France coordinated a massive build-up of troops and supplies to support a large-scale invasion of Normandy in the D-Day landings on 6 June 1944 under the code name Operation Overlord.
The largest seaborne invasion in history, the operation began the invasion of German-occupied western Europe.
ABOUT THE DDAY - WWII TOURS
My tours are conducted with adaptability and respect. I will always keep in mind your expectations, and research a particular event, if needed, for example for the family retracing a veteran's steps. I have a comprehensive collection of maps and photos to make history come alive and help you come out of this tour with a brand new understanding of June 1944, Operation Overlord.
I'm proud and happy to make at your disposal my invaluable skills and knowledge, my Norman background, my teaching experience, my privileged contacts with local partners, and most importantly, my dedication at providing a professional, irreprochable and curteous service.
Options can be added to your tour : museum(s), organic high quality picnic lunches, jeep rides and more to be announced. Contact me if interested in one of these options.
For multi-days tours, accomodation and meals can be arranged for you as part of a full package.
EXAMPLES OF TOURS

AMERICAN TOUR
Sainte Mère Eglise
Airborne Museum
(optional)
Utah Beach
Pointe du Hoc
Omaha Beach
American Cemetery
This tour is an overview of the American D-Day landings. It includes both American beaches, Omaha and Utah, the famous cliffs of Pointe du Hoc that the Rangers' 2nd Battalion of Colonel James Rudder scaled that morning, we will also go to Sainte Mère Eglise, first town liberated by the Americans on D-Day and made famous in the movie The Longest Day. If you wish to complete the tour and get a better understanding of the Airborne operations, it is possible to schedule the visit of the Airborne Museum. The museum is now equipped with pads "Histopads" that provide excellent support to the visit, and this tour of course includes the visit of the humbling American Cemetery in Colleville S/Mer where 9388 soldiers are buried.
The sites aren't given in any specific order, I will organize them as it will seem best the day of the tour, taking into account the day of the week, the time of the year, special events, low/high tides, etc. Note that this tour is a global overview, and is excellent for a first visit or a one-day-only trip to Normandy. Adding more sites would simply have us rush through and isn't recommended.
---
OMAHA TOUR
Pointe du Hoc

Omaha Beach
(D1 Dog Green)

Vierville

Omaha Beach
(D3)

St Laurent

Omaha Beach
(E1 Le Ruquet)

St Laurent

Omaha Beach
(E3)

Colleville

Museum Omaha Beach

or Overlord Museum
(optional)

American Cemetery

Longues s/ Mer

if time permits
For this tour we will focus on one beach, Omaha Beach, and the different sectors where the American troops landed on D-Day. This will take us through the three villages Vierville S/Mer, Saint Laurent S/Mer and Colleville S/Mer and we will see some of the German strongpoints. It is possible to add a museum to the tour, or to take the time to go through the Visitor's Center at the American Cemetery. Time permits we may be able to finish the day in Longues S/Mer, although it is located on the British sector, the German guns in Longues were also a threat for the Americans.
---
BAND OF BROTHERS TOUR
Sainte Mère Eglise
Beuzeville au Plain
Ravenoville
W/XYZ
Brécourt Manor
Sainte Marie du Mont
Culloville
Angoville au Plain
Saint Côme du Mont
Museum Dead Man's Corner
(optional)
Purple Heart Lane
Carentan
A must-do for the fans of the HBO serie Band of Brothers. I will take you on the steps of Easy Company in Normandy. The tour includes a visit at the famous Brécourt Manor where I have the privilege to be allowed in the field so you can see the actual location where the guns were found and destroyed that day by Easy and Dog Co. This tour also covers a comprehensive visit of the main sites where the 101st Airborne Division landed and fought on DDay and in the following days.
I have had the honor to meet some of these veteran paratroopers as well as touring with and meeting on several occasions some of the actors of Band of Brothers, and this tour is one of my personal favorites.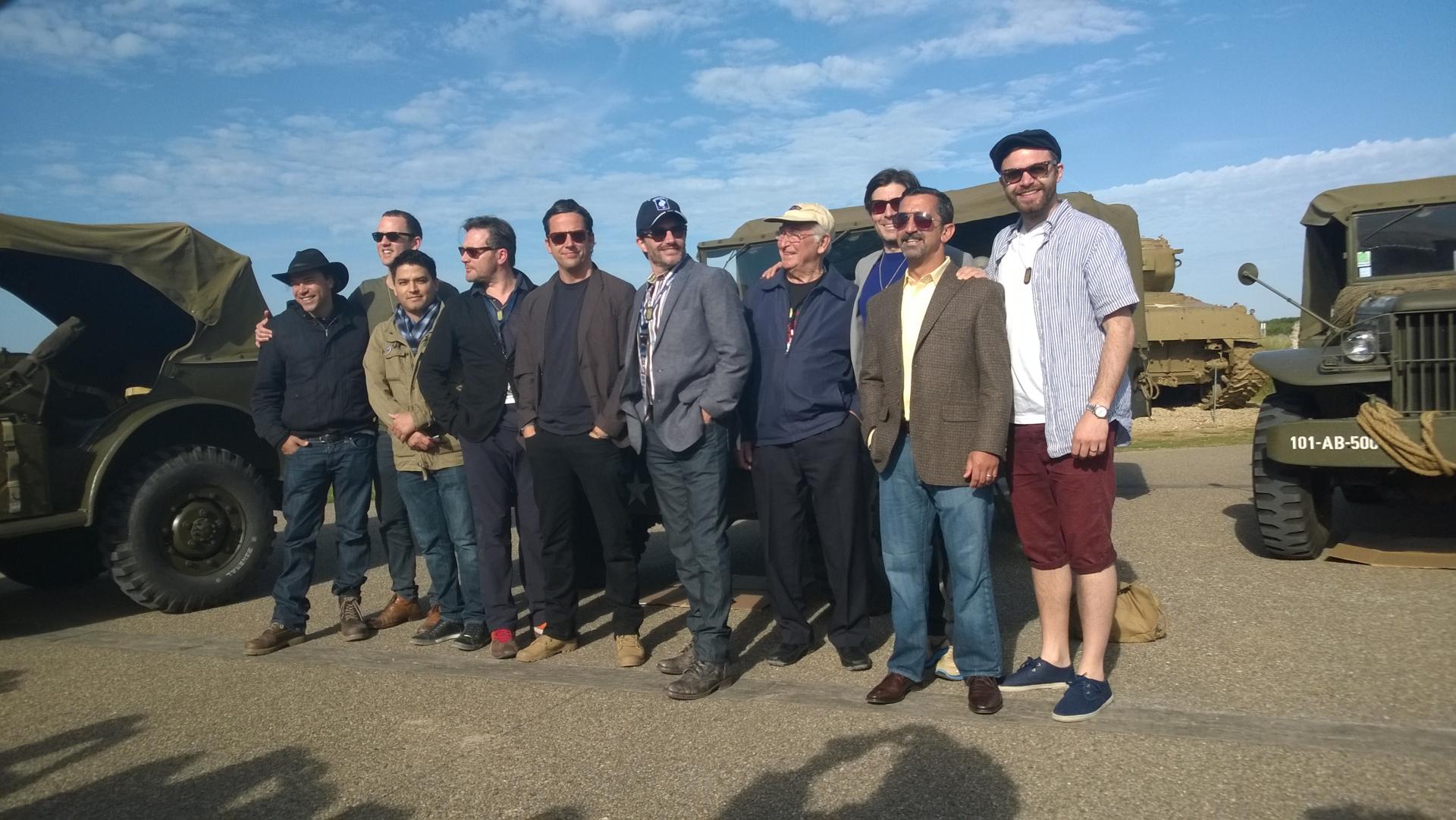 Band of Brothers Actor's Reunion, 2015.
---
UTAH & AIRBORNE TOUR
Sainte Mère Eglise
La Fière Bridge
Utah Beach
Museum Utah Beach
(optional)
Sainte Marie du Mont
Holdy
Hiesville
Angoville au Plain
La Cambe
German Cemetery
This tour is a very good choice for a good understanding of the different objectives the American paratroopers had on DDay and the impact it will have on the landings on Utah Beach this morning. We will see about both Airborne Divisions, the 82nd "All American" and the 101st "Screaming Eagles", and it focuses on the Cotentin Peninsula.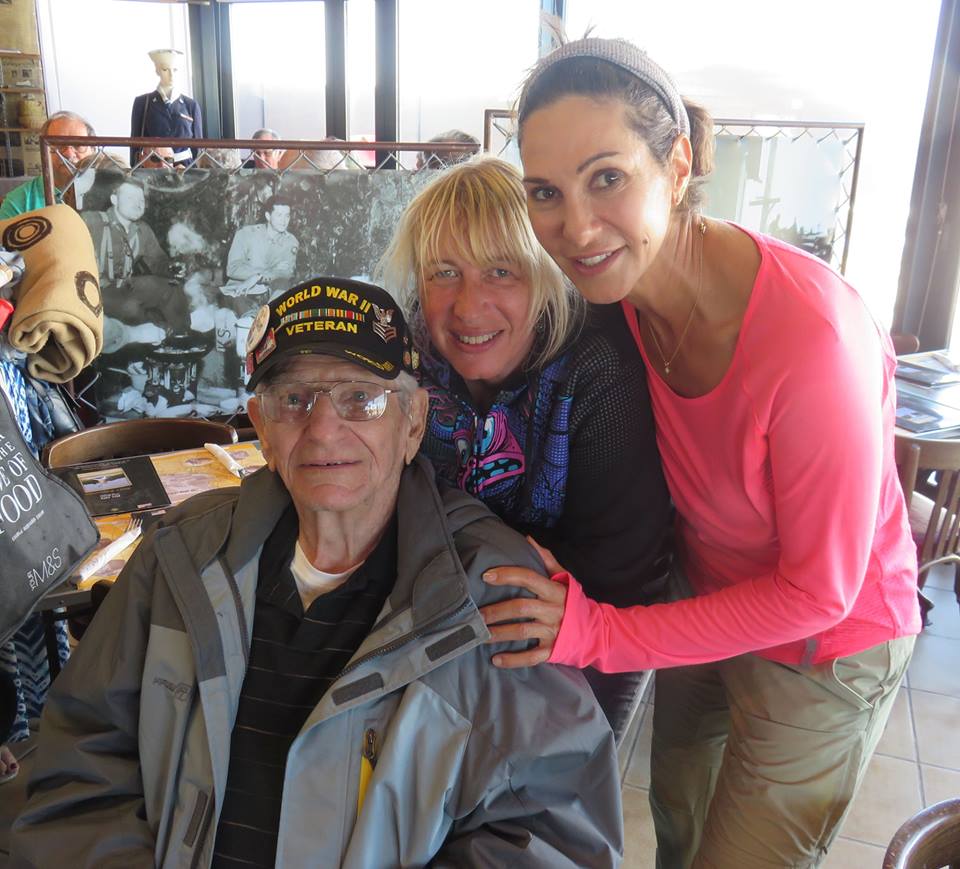 With WWII vet Doug Bickel, 2015. He served on the LCT-17 855 flotilla from June to November 1944. He lived on the LCT (Landing Craft) for nearly 160 days straight. He was primarily stationed on Utah Beach on D-Day, but supported all beach operations.
BEYOND D-DAY
MORE TOURS ARE POSSIBLE :
- BATTLE FOR CHERBOURG (U.S)
- BATTLE FOR SAINT LO (U.S)
- BATTLE FOR CAEN (BR/CAN)
- FALAISE POCKET (ALL ARMIES)
You can contact me if you have an interest in these and I can propose an itinerary.