WELCOME TO NORMANDY !
DESTINATION NORMANDY - Historical & Cultural Tours
DDay Tours Normandy Beaches and other Normandy Tours - Private Tours - Guided Tours - Multi-day specials
Are you planning to visit Normandy?
I will be honored to be your tour guide for the best Normandy has to offer ! Be it for D-Day tours of the landing beaches, WWII and the Battle of Normandy, or if you so choose one of our other finest Normandy sights such as the Mont Saint Michel, Bayeux, Rouen, Honfleur, Etretat, the Pays d'Auge and it's most finest gastronomy products, walking in the steps of William the Conqueror, whatever brings you to Normandy, History, architecture, its scenic landscapes along the coast or its delicious food, I will be eager to share with you the love and pride I have for my beautiful region.
This amazing region is a favorite destination for thousands of people every year. Whatever has brought you to Normandy, you have come to experience the best it has to give, and hope for lasting memories of your visit.
The choice of what to do and where to go, and how to do it, is sometimes difficult to make, and the amount of possibilities can be overwhelming. I can help you decide what is best for you, I can help you understand the different possibilities, there's so much more to Normandy than one thinks at first.
My goal is to make your stay as memorable as possible, and guide you through your journey in this area I'm proud to call home. All tours are tailored to best suit your interest.
D-Day & Battle of Normandy tours are very carefully prepared and can be adjusted to a specific area, or detail and/or military outfit.
CLICK HERE FOR THE TOUR OFFERS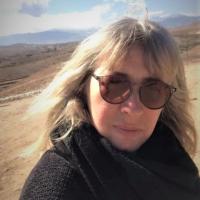 BOOK NOW FOR 2023 !
Offers include transport in a comfortable air conditioned minivan.
New offers include pick-up and drop-off in Paris, with many options available, such as stops in Chantilly, Versailles, Giverny.
New 2023 special ! Package tours in the Loire Valley : Amboise, Clos Lucé (Leonardo Da Vinci), Chenonceaux and Chambord.
New 2023 special ! Tours in Brittany : Saint Malo and Cancale.
New 2023 special ! WWII 1940-42-44 : Dunkirk, Dieppe and Normandy packages.
Contact me for quote & details on those 2023 specials.
Please contact me now if you are interested in booking a tour in 2023.
DOMINIQUE, YOUR PRIVATE GUIDE IN NORMANDY FOR YOUR ULTIMATE NORMANDY TOUR
Born and raised in Cherbourg, Normandy, France, where I lived until I graduated from High School, I then resided in Paris for 7 years, attending college in Paris, studies mostly focused on oriental languages at INALCO Paris, and hosting & hospitality at EIHT Paris.
I then returned to Normandy and after a few years decided to move to the USA where I spent 5 years, in Colorado and California. Afterwards I came back to my beloved Normandy.
Well traveled, it's my passion for languages since childhood (I have studied 9 languages during my school & university years) and a strong curiosity for different cultures which made me chose the tourism industry. The deep connection and affection for my native region and its rich history compelled me to chose a career that would allow me to share "my Normandy" with the rest of the world, and quite naturally I started guiding.
For my first 3 years as a tour guide I was conducting tours of the WWII D-Day Battlefields for a highly reputable company. Then, as of fall 2014, I have decided to become an independent guide and offer my services to propose more diversified, authentic and unique experiences.
More recently, I have been dedicating my winters to studying and completed in May 2017 the only existing University Degree in Normandy Studies, History, Arts & Traditions. I also have completed a Bachelor's Degree in English Language, Literature & Civilization in May 2018. After completing my first year of Masters Degree in Tourism Management & Engineering in 2019 focused on Remembrance Tourism and having succesfully presented my dissertation about "Sainte-Mère-Eglise and Gettysburg, Sister Cities", then I attended courses to complete a Masters Degree in English Literature.
Why should you pick me and not another tour guide? I aim at making your visit unforgettable. As a native, my knowledge of the history of Normandy, its traditions, and its local differences depending on where you are in Normandy (agriculture, architecture, etc) enables me to provide countless bits of information. I always adapt the content of the tours to my guests, as well as the lay-out of the itinerary, to make the most of our time together. I personally conduct all my tours with high standards and work ethics.
My family : My father and two of my uncles (one uncle in the RBFM -French Commandos- with the French 2nd Armored Division of General Leclerc in Normandy, Alsace and Germany) fought in WWII and my dad was also an active member of the French resistance in Cherbourg, then in August 44 joined the 4th Company of the 3rd Transport Group, formed in Bayeux on the 20th of August, company known later in 45 as the "404" when it was attached to the 4th Régiment Automobile Maine.
My dad's family is from Cherbourg and my mother's family from Marigny (west of Saint Lô).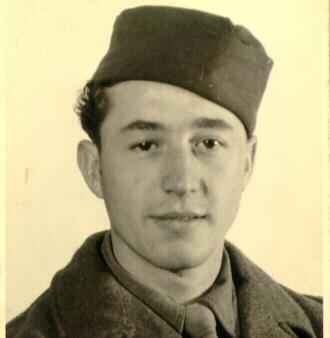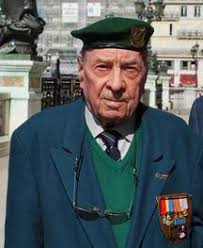 Claude BOQUET, my father & Lucien CADIOU, my uncle
However DDay and WWII are not the only tours that I offer as you can see on my pages "Tours" and I would be delighted to help you explore other aspects of the Norman history, countryside, traditions, and specialties.
Beyond Normandy : I can help you plan several days in Normandy as well as in other parts of France and be with you every step of the way. Please make sure you check all the tours I can offer.
I am totally fluent in English and you can be assured there won't be a language barrier when booking my services. I'm looking forward to meeting you !
WHO HAS RECOMMANDED ME
Don't hesitate to check my reviews on Trip Advisor (see below) and leave one as well.
- "Dominique Fiquet is without doubt one of the best guides in Normandy. Her passion for history and dedication to her clients is first rate. I have no hesitation recommending her services."
– Paul Woodadge, DDay Historian and Author
- Recommanded by Tim Gray and the World War II Foundation and by Jack Beckett of War History Online.