DDAY - WWII - Anglo-Canadian Sector
DDAY - WWII - Anglo-Canadian Sector
THE BATTLE OF NORMANDY - LANDING BEACHES
During the Second World War, Normandy following the armistice of 22 June 1940, Normandy was part of the German occupied zone of France.
The Allies, involving Britain, the U.S, Canada and France coordinated a massive build-up of troops and supplies to support a large-scale invasion of Normandy in the D-Day landings on 6 June 1944 under the code name Operation Overlord.
The largest seaborne invasion in history, the operation began the invasion of German-occupied western Europe.
ABOUT THE DDAY - WWII TOURS
My tours are conducted with adaptability and respect. I will always keep in mind your expectations, and research a particular event, if needed, for example for the family retracing a veteran's steps. I have a comprehensive collection of maps and photos to make history come alive and help you come out of this tour with a brand new understanding of June 1944, Operation Overlord.
I'm proud and happy to make at your disposal my invaluable skills and knowledge, my Norman background, my teaching experience, my privileged contacts with local partners, and most importantly, my dedication at providing a professional, irreprochable and curteous service.
EXAMPLES OF TOUR
CANADIAN TOUR
Longues s/ Mer

Atlantic Wall

Arromanches

Mulberry B

Courseulles s/ Mer
(Juno Beach)
Museum Juno Center
(optional)

Bernières S/Mer
(Juno Beach)

Saint Aubin

(Juno Beach)

Bény S/Mer

Canadian Cemetery

Abbaye d'Ardenne
This tour is primarily focused on the participation of the Canadians on DDay. It includes a couple of British sites : Longues S/Mer where we will see a German coastal battery and get an understanding of the defenses of the Atlantic Wall, and Arromanches where we will learn how the Allies solved the problem of bringing supplies to Normandy by building the Mulberries (artificial harbours). The rest of the day is dedicated to the Canadian operations, and a visit to the Canadian cemetery in Bény S/mer is included.
---
SWORD AND GOLD TOUR
Pegasus Bridge

(British 6th AB)

Museum
(optional)
Ranville Cemetery

Ouistreham

(Sword Beach)

Riva Bella

(Sword Beach)

Colleville-Montgomery

(Sword Beach)

Ver s/ Mer

(Gold Beach)

Crêpon

(Gold Beach)

Asnelles

(Gold Beach)

Arromanches

Mulberry B

(Gold Beach)
This tour is an overview of the British landings on DDay, including the main feat of the paratroopers at Pegasus Bridge. There are some interesting museums that can be added on this tour, the Pegasus Bridge Memorial, the Grand Bunker in Ouistreham, and the Musée du Débarquement (mostly about how the Mulberries were conceived and put together) in Arromanches. It leaves out Juno Beach (Canadian) to allow for more details about the two British beaches.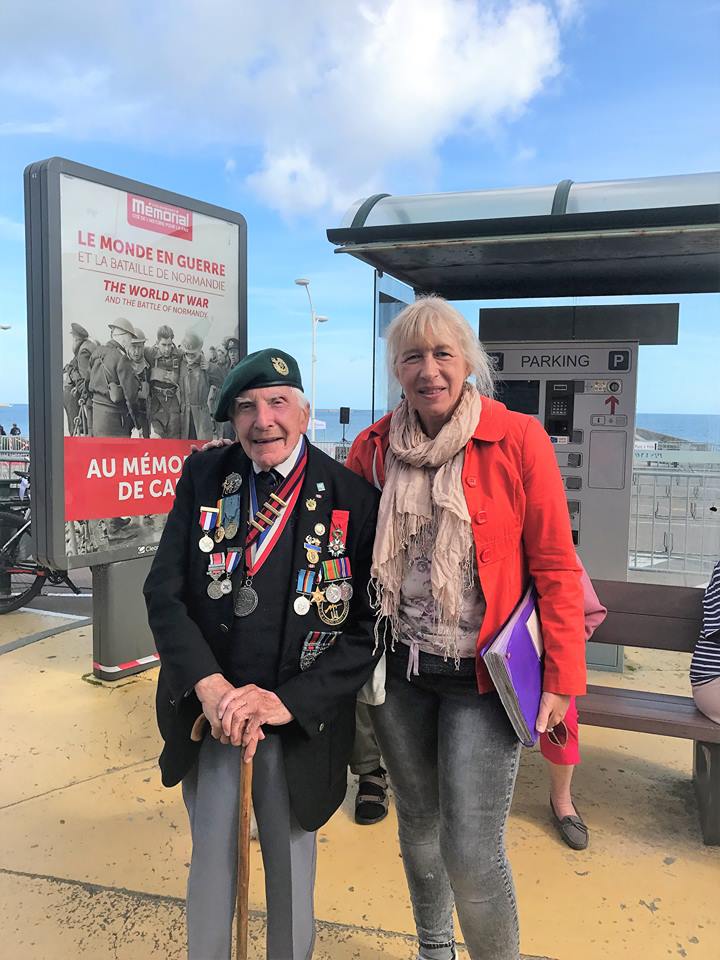 Meeting Harry Billinge, a British sapper, who landed on Gold Beach on D-Day with the Royal Engineers. 2017.
---
BRITISH AIRBORNE AND SWORD TOUR
Merville

German Battery

(6th AB)

Ranville

British Cemetery

Bénouville

Pegasus Bridge

+ Museum (highly recommended)

(6th AB)

Ouistreham-Riva Bella

Sword Beach

Le Grand Bunker

(museum optional)

Colleville-Montgomery

Sword Beach

Hillman

Sword Beach
The difference between this one and the one above, is that it doesn't cover Gold Beach, and instead allows more time for the British Airborne operations, with the very famous Merville Battery, and it also makes time for the German fortified site "Hillman", that comprises 24 ha and 18 casemates and underground constructions. This site was the German Command Post for this sector of the coast. The best day for this tour is on Tuesdays, when they open up the main Command Post of Colonel Krug. The outside part of the site is however open all year.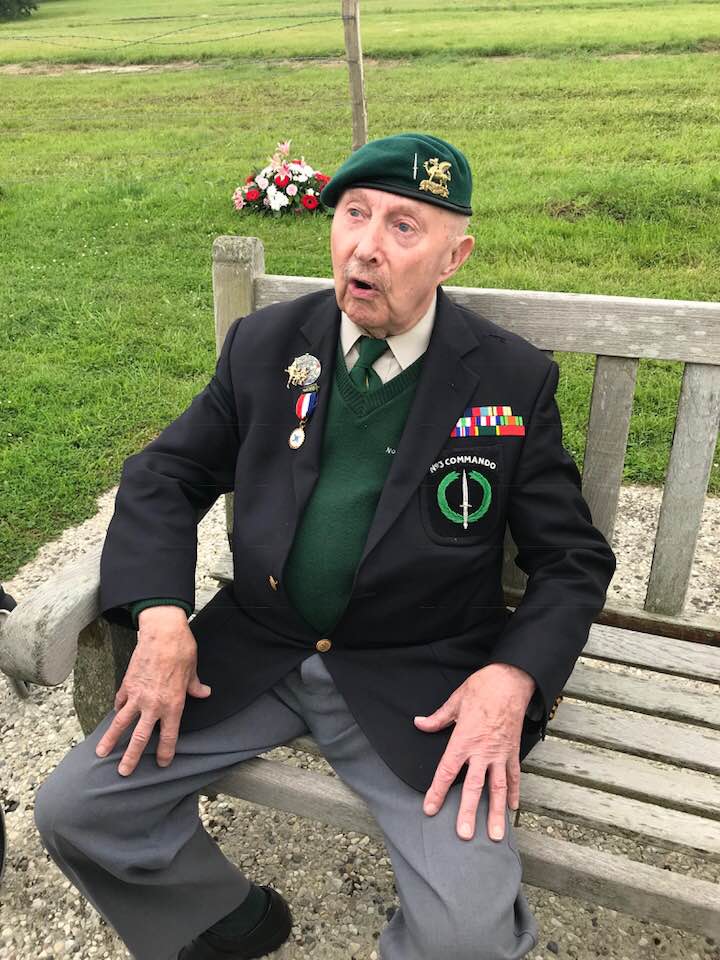 Meeting Roy Catman, veteran of the Commando N°3, who landed on DDay on Sword Beach to link up with the 6th Airborne. 2018.
---
BRITISH / CANADIAN TOUR
Pegasus Bridge

(6th AB)

Museum
(optional)
Ranville British Cemetery
Colleville-Montgomery
(Sword Beach)
Bernières s/ Mer
(Juno Beach)
Courseulles s/ Mer
(Juno Beach)
Ver s/ Mer
(Gold Beach)
Arromanches
(Gold Beach)
For this tour I offer an overview of the British and Canadian landings, less details for each beach, but a good compromise if you have just one day to see it all, and for a first visit to get a general understanding.